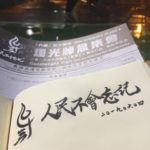 Tagged along my highschool friends to the June 4th's Tiananmen Massacre candlelight vigil at Victoria Park this year. This is officially my first time because the last time I joined was a few years back and the vigil ended early due to pouring rain. That time I got lost in the rain and crowd and couldn't find my friends due to jammed mobile networks. I left that vigil experience feeling confused.
This year was different, I was more prepared. I watched a remastered video footage of the Tiananmen Massacre through the eyes of a Canadian reporter, his narrative was particularly touching. I also clicked through many photos and listened to public discussions of the massacre.
I left work early to join my friends for the candlelight vigil. The MTR was super crowded, I lost my tiny iPod shuffle while getting off the packed train at CWB station at around 1830. Met up with my friends before going into Vic Park. We were early and found a place to sit in front of a big screen in one of the middle soccer fields. I sat through the entire candlelight vigil silently listening to the testimonials and songs. The testimonials were touching, but surprisingly I didn't cry like my friends. Tears did run down my cheek at one time towards the end as I imagined what God would think at the night of the massacre.
I still don't understand how a Government can so mercilessly make their armed forces shoot and kill their own armless citizens. And I still don't understand how one can keep lying for 30 years and just counting on the offended to forget the shredded blood over time.
May God pour His mercy on our city, our country, and our world.