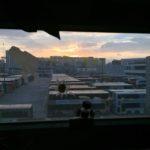 Typing up this weekly entry in the studio as the whole city anxiously waits for the approaching super typhoon Mangkhut…
Started off this week with a little family storm of my own.  Had a big argument with my mom on Monday over dinner.  It was a recurring argument about me not willing to eat the large bowl of rice that my mom thinks I should be eating.  I usually just shove the extra rice back to the cooker and silently let my mom scold a little before peacefully eating the dinner with my parents.  But this time my mom snapped and yelled and wouldn't let the issue go.  I was angry but couldn't talk back and reason with her because that's useless and would make the situation worse.  I ended up not eating dinner at home for the rest of the week.  Truth is that I'm more worried than angry, according to my sister my mom has been arguing with her and my dad since returning from Canada, and now even me (her most spoiled son) was not exempted, what's wrong?
Had been spending a lot of time this week figuring out a good way to vectorise some of my brush-and-ink artwork.  Seemed to have found a good solution and will try to archive the pile of artwork I had accumulated over the past year or so.
Met and caught up with a relative new friend over lunch yesterday.  She's an interesting friend who serendipitously found me when I felt lost after my uncle passed away more than a year ago.
Met and caught up with an old friend today.  It's nearly 30 years since I first met this friend and his brother in TO, we were play buddies whenever our parents played mahjong together.  We lost contact until we bumped into each other again in UW enrolling in the same undergraduate programme!  I invited him to play badminton with the UW Alumni group this morning, he injured his ankle halfway.  We had lunch, visited a Chinese doctor, and shared a cab home.  We had plenty of time to catch up as he had to walk slowly and the taxi ride was also slowed down due to congestion.
Enjoy meeting and catching up with friends, and I'm still eagerly waiting for the girl-I-like to free up some time to meet up with me as the city anxiously waits for the approaching super typhoon Mangkhut…